Just last week, we saw the release of a new feature from WhatsApp called "View Once", which allows you to view photos and videos once, after which it will disappear. Another feature has surfaced online which is still under development.
According to a report, WhatsApp is currently working on a supporting feature that allows you to choose the video quality to upload. In other words, it will give you options to send high-resolution videos.
From the screenshot obtained, three options are presented when you want to upload a video which can be seen below;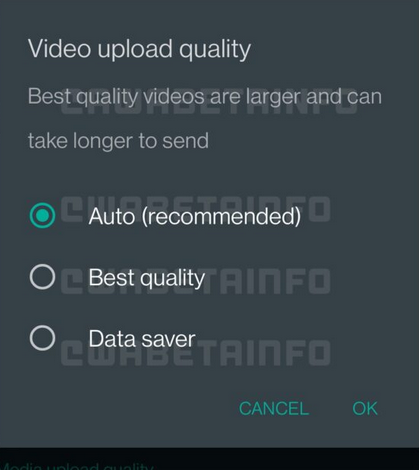 Auto (recommended): WhatsApp will detect what is the best compression algorithm for specific videos.
Best quality: WhatsApp will always send the video using the best quality available!
Data saver: when Data saver is enabled in your Android settings, WhatsApp will compress videos before sending them.
The three options above will be presented to you when you attempt to upload a video either you want to compress it or send the original quality which will eliminate data saving.
The feature is still in development and we don't when it will be set for test before rolling out to the general public. But be rest assured that it will be available for Android and iOS devices when completed.