Do you still remember Racksterli, an investment platform that scammed people sometimes in June last year? Well, they are back and have device new means of defrauding people.
Racksterli owned by Michael Oti, apart from now promising mouth-watering return on investment within 45 minutes – an incredibly short period of time – from the 30-day period it dangled before investors in the past until its crash in June 2021, has also increased the amount of ROI on each investment made.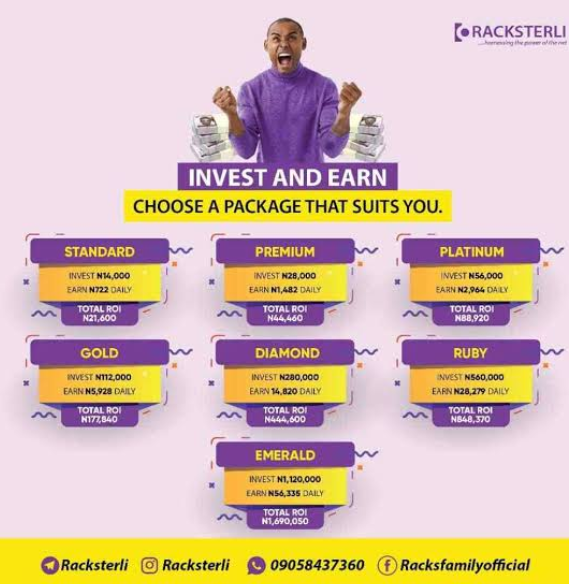 Investors are now assured by the firm that whatever amount they put in would be doubled within the 45-minute timeframe and that the financial reward is certain.
Scores of Nigerians desperate to boost their finances have been jumping at the offer from Racksterli without envisaging what may come.
"At first, they tell you that they will double any amount you deposit within 45 minutes.
"But the problem starts after you make your first deposit and they start to extort you by demanding all sorts of money from you.
"I invested N50, 000 but they ended up extorting N175,000 from me without any returns. They were even still asking me to pay more.
"A lot of Nigerians have fallen victim to this all because Davido was involved.
"Racksterli has refused to pay any return on investment or refund my entire money. They are rogues," an aggrieved investor, Max Okechukwu, who lost his money to the firm, said.
The firm has changed its website and constantly deletes comments of complainants on its various social media platforms in order to continue deceiving members of the public.
Apart from musician Davido, Nollywood stars, Nancy Isime and Williams Uchemba, are among Nigerian celebrities who endorsed Racksterli in the past before the company was initially exposed as a fraud.
Oti claimed that investors' funds were partly used to trade in Bitcoin and other cryptocurrencies, adding that they were certified by various government agencies, so customers had no reason to worry.