An update is rolling out to WhatsApp that now allows up to 32 persons to participate in a group call. WhatsApp last increased the group call participation limit in 2020.
The maximum number of participants that can join in a WhatsApp voice call was previously set at 8. Up to 32 individuals will be able to join in a single phone call according to the update spotted on  App Store changelog as well as on the FAQ page of Android and iPhone on the WhatsApp site.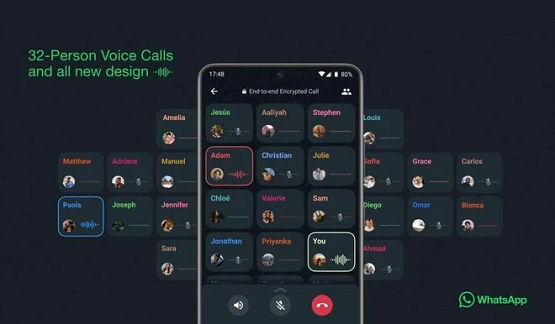 WhatsApp had doubled the group voice call participation limit to 8 from the earlier limit of 4. To access the latest feature, users will have to update to the latest version of WhatsApp on their devices, that is, v22.8.80 on iPhone and v2.22.9.73 on Android.
How to Make a Group Call
Make a group voice call from the CALLS tab
Open WhatsApp, then tap the CALLS tab.
Tap New call > New group call.
Find the contacts you want to add to the call, then tap Voice call.
Make a group voice call from an individual chat
Open the individual chat with one of the contacts you want to voice call.
Tap Voice call.
Once the contact accepts the call, tap Open > Add participant.
Find another contact you want to add to the call, then tap ADD.
Tap Add participant if you want to add more contacts.
Earlier last week, the chat app announced WhatsApp Communities, a feature which enable people to bring together separate groups under one umbrella with a structure that works for them.
Expect the more update on this in the coming weeks.