Telegram Premium has finally been launched and it would let users support the app's development and access additional features.
As Telegram keeps growing at rocket speed, many users have expressed their will to support our team. Today we're launching  Telegram Premium – a subscription that lets you support Telegram's continued development and gives you access to exclusive additional features.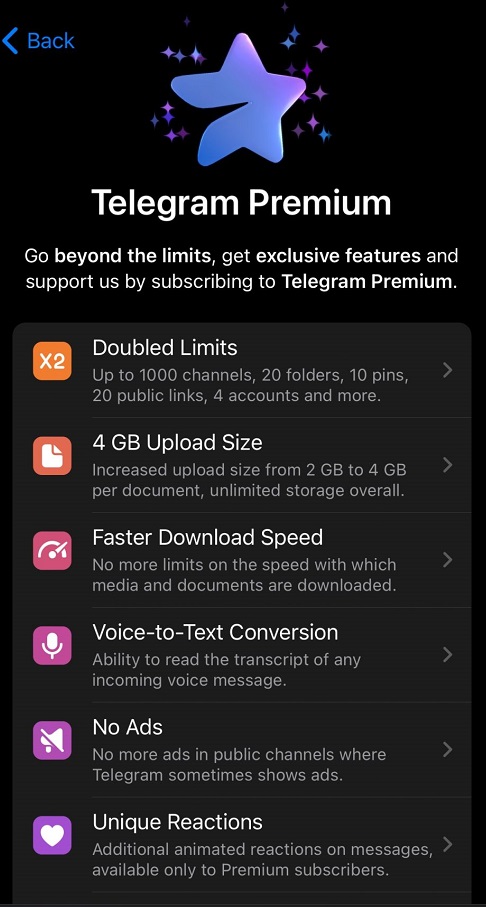 The premium tier adds a range of additional and improved features to the messaging app, which topped 500 million monthly active users in January 2021. Telegram Premium enables users to send files as large as 4GB (up from 2GB) and supports faster downloads, for instance, Telegram said.
Increased limits
Telegram announced it would increase subscribers' limits as follows:
Follow 1,000 channels
Create 20 chat folders, with 200 chats each
Add a fourth account to any Telegram app
Pin 10 chats in the main list
Save up to 10 favourite stickers
Favourite 400 GIFs
Write a longer bio and include a link in it
Increased characters for media captions
Premium users also can reserve up to 20 public t.me links.
4 GB files Upload
Any user can upload large files and media, each up to 2 GB in size and enjoy unlimited storage in the Telegram Cloud for free. With Telegram Premium, subscribers will now be able to send 4 GB files – enough space for 4 hours of 1080p video, or 18 days of high-quality audio.
All Telegram users can download these extra-large documents, regardless of whether they are subscribed to Telegram Premium.
Faster Download
Premium subscribers are able to download media and files at the fastest possible speed. You can access everything in your unlimited cloud storage as fast as your network can keep up.
Telegram Premium subscribers will also receive access to several new features, including:
No ads — Premium subscribers will not see the commercials in large, public one-to-many channels that Telegram rolled out last year.
Voice-to-Text — Subscribers can convert voice messages to text and rate transcriptions to help improve them.
Unique stickers — Dozens of stickers feature full-screen animations. Only Premium subscribers can send these stickers, and all users can see them. Telegram artists will update the premium sticker collection every month.
Unique reactions — Subscribers receive access to over 10 new emojis for reactions like , and .
Chat management — Premium subscribers can change their default chat folder, like making Telegram open in Unread instead of All Chats.
Animated profile pictures — Subscribers' profile videos will animate for everyone across Telegram, including in chats and the chat list.
Premium badges — All subscribers receive a star-shaped badge in the chat list, chat headers, and member lists in groups.
Additional app Icons — Premium subscribers can change Telegram's app icon on their home screen. Three extra options are available: premium star, night sky, or turbo-plane.
The firm did not disclose how much it is charging for the premium tier, but the monthly subscription appears to be priced in the range of $4.99 to $6.