Back in July 2022, Mara, a pan-African company that offers an ever-expanding suite of crypto products, announced the pre-launch of the Mara Wallet which gave everyone who downloaded the a free $2.
Now, the company has announced that the app is out of prelaunch, the waitlist has ended and you can claim the money you've worked hard to earn as soon as it becomes available from your locked account into your local bank account.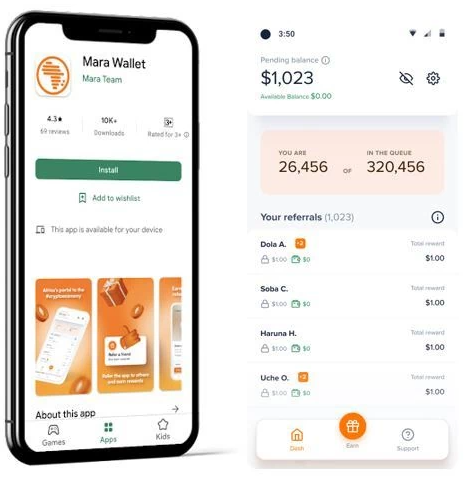 If you've downloaded the app, you should have some free dollars inside your wallet or you've invited one or two people, then you can simply do the below to fully verify your account, as well as claiming your money.
Update your Mara Wallet app via Playstore or App Store
Login and verify your email address.
After that, a verification code will be sent  to your registered phone number, enter the 6 digits to verify your phone number
Protect your account by creating a pin and biometrics
Update and Verify your Personal information, as well as your BVN after which you can start using the new updated app.
You should now be seeing your accumulated funds in Naira ($1 on the platform is now equal N745 as at the time of writing).
If you've not onboarded, you can use the link below to download the app, and earn your own free crypto dollar from Mara wallet.
Where to Download Mara Wallet
It is available for Android and iOS devices and you can download it here