Mara, a pan-African company that offers an ever-expanding suite of crypto products, has announced the pre-launch of the Mara Wallet, a portal to the crypto economy focused on helping people begin their journey towards conveniently managing their crypto-finance needs, take a major step toward financial freedom, and learn more about cryptocurrency and blockchain in Africa.
Mara wallet is still in prelaunch stage and you can be part of the waiting list. When your register right now, you earn a reward, if you invite someone to register with your link, you earn a reward. The higher you are on the waitlist, the better your rewards.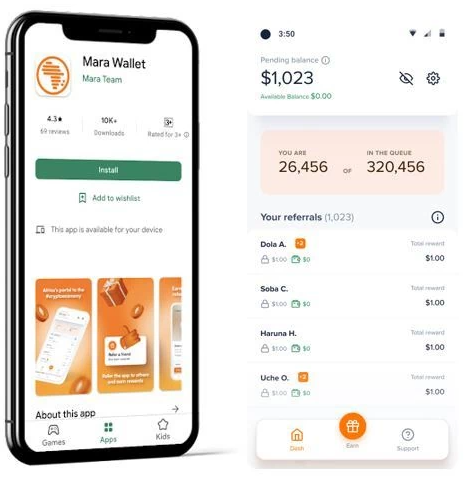 How Mara Wallet Works
Pre-registered users will join a queue to enable early access on a first-come, first-served basis. Moreover, a higher position on the waitlist increases the odds of periodically winning prizes. As soon as users join the waitlist, they instantly earn a signup reward.
Once formally launched in a few months, the Mara Wallet will enable users to invest in crypto and send money to their family members in real time without processing times, delays, or high fees.
Where to Download Mara Wallet
It is available for Android and iOS devices and you can download it here