Tecno has been something that
has been around for a while and I do not refer to the genre type of music.
Tecno androidsmartphones has been in the market
for a while, if you live in
the Asian or African region and if you have not heard of them, then you are
probably not of this planet. One wouldn't have imagined they would have been
able to produce such cheap and yet functional and efficient android smartphones
which perform quite well and some might say below average. They have stormed
the Nigerian market and a few other African countries that they can be found
with every Tom, geek and tech guy.
Samsung
Electronics
has made huge investments towards building one
of the biggest brand names in manufacturing of gadgets, which can probably go
head to head with Apple.
In recent times, the Tecno Company
has tried to up their game by manufacturing better smartphones than the ones
that they used to flood the African market when they first came to scene and
one can confidently say they are on their way to somewhere. Though relatively
on the high side with their prices, Samsung smartphones cost quite a lot more
than the Tecno smartphones, but it can be safely said that you are getting your
money's worth. With the Tecno phone, you also get your money's worth.
To take this a step further,
let's compare the Tecno Phantom A2 to the
Samsung Galaxy
S4
. The faster processor of a Samsung Galaxy S4
of 1600 MHz Quad core to 1500
MHz Quad core of the Phantom A2. A little bit faster processor smoothly
executes multiple tasks/apps simultaneously. The S4 gives a much more RAM of 2.0 GB to that of the A2 with 1.0
GB RAM. The added RAM results in faster loading of multiple applications.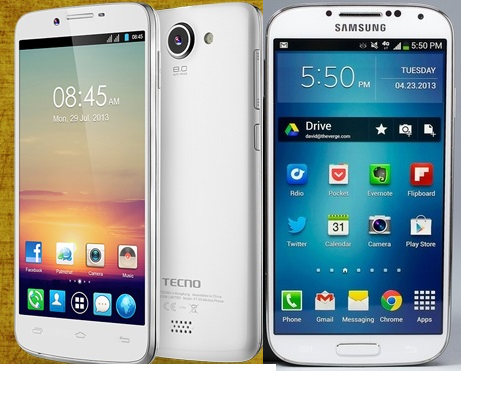 They both have an internal memory of
16GB but the added advantage is that the S4 can handle an expandable Micro SD
of up to 64GB while the Phantom A2 can only handle up to 32GB Micro SD. The
Galaxy S4 has
Gorilla
Glass
while the Phantom A2 doesn't. The
gorilla glass protects smartphone's screen from scratches and minor knocks.
This is a huge advantage because Tecno phones are known for their not so
durable screen. It takes a fall and it cracks, but what do you expect with a
phone that was produced with a far lesser budget.
The Samsung Galaxy S4 is much thinner
with a 7.9 mm compared to
the 8.4 mm that the Tecno Phantom A2 came with. Slim handsets are easy to
handle or pocket, and look a lot more stylish.
The two phones relatively have
almost the same features but it cannot be compared in terms of quality.
The Samsung
Galaxy S4
might cost almost twice the price of the Tecno
Phantom A2 but it is safe to say you are getting your money's worth and knowing
fully well how the two smartphones function, the S4 is going to last longer
than the A2 in terms of durability.
To sum it all up, the best
Tecno smartphone cannot function as good as the worst Samsung smartphones and
that's just to assume they ever go toe to toe. Why do I use the word worst?
Well, just to be fair to Tecno – Samsung has never gone wrong in phone
production except for their prices, hence, the word: 'Worst'. The S4 is
undoubtedly one of the best smartphones we have in recent times. Pitching it
against
the more
affordable Tecno phones
is simply to acknowledge its effort coming up
but still as quality as Samsung's worst! If Samsung makes a new phone with
specs close to a model made by Tecno, be sure the prices won't be the same.