Once of the worst thing that can ever happen to Android
users is for their device to be crawling like snail or freezes whenever you
open one or more application. This kind of problem normally happen
when your Android device is running  low  on
RAM
, therefore you can't open all the
necessary games and apps because of this.
Though
Link2sd
that I talked about the other day will only
help you
free application space
instead of running those app directly on your
phone memory; while the RAM expander gives you an additional
I know you will be wondering how can an app increase the RAM
memory of your android device but The app can
increase the RAM of Smartphone with a new
technology in which a new file is created called as SWAP file on
the SD card and this file is used as Virtual RAM to boost the performance
of Android Smartphone. The App that can do this unthinkable task is ROEHSOFT
RAMEXPANDER.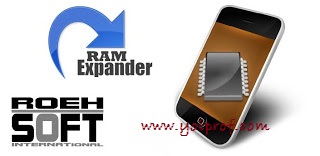 Let me quickly introduce you to
ROEHSOFT RAM Expander
.
ROEHSOFT RAM Expander will bail you out of insufficient RAM memory. This app
uses part of your memory card as ram if your SD card is large.
Why Should I Use ROEHSOFT
RAMEXPANDER?
-It will do the following on your
Android device;
-Free SD card memory as a RAM use (SWAP RAM / SWAP MEMORY)
– Swapfile RAM expansion up to 4.0 GB (file system limit)
– No limit on SWAP partition!
– The usual performance degradation when paged not occur with sd card from
class-8
– Widget for PNP swap (swap on / off swap)
– Detailed Memory Information & Analysis
– Autorun
– Swappiness kernel parameter set
– Easy foolproof use  (1 click optimization and automatic calculation)
– Supporting Tung all Android devices (root access and Kernelswap support)
Before Your Download This App, Check Compatibility With Your
Device
 But before using the ROEHSOFT
RAMEXPANDER app, it is very important to  first check whether your device is compatible
with the ROEHSOFT RAMEXPANDER app or not.  
To
check compatibility, download from Google play  MemoryInfo & Swapfile Check plugin which is free to
download and use. The main purpose of the software is to check
whether your device is compatible with RAMEXPANDER or not.; because some some
Android devices are not in support  in
spite of root privileges.
How Can I Download This App?