Guess what is on display today? Your favorite Samsung Galaxy
star 2 Plus device. Samsung lovers are going to love this because its coming
hand in time at the best cheapest price on
Jumia Mobile week
. Samsung has
always proven to be a very strong and branded device unlike its fellow
competitors. Samsung Galaxy star 2 plus run on
Android 4.4.2 Kitkat
OS,
4GB

inbuilt memory,
512 Ram
,
3.15mp
primary camera and
1800mAh
battery.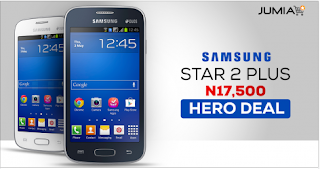 This phone on Ebay is sold for N21,980; while the original
price on Jumia is N25,000 but it has been discounted to go for N17,500. This is
actually a give away price.
Get it here and other Samsung galaxy phones here
Will there be 50% discount on this?
I don't know yet, but if there is, I'll upload it through
the comment box.