Have you been suffering from the hand of fake serial key
most especially if you are such a lover of movie download? I've had series of
encounters with fake serial key using IDM and I'm sure you must have had that
encounter too.
Well, there is a better alternative to using IDM called
EagleGet.
EagleGet is a universal download accelerator that supports
HTTP, HTTPS, FTP, MMS and RTSP protocols. The application can also download
video files from most popular online video websites. It can screen grab videos
just like IDM… and the most interesting aspect of this is that its free for
use.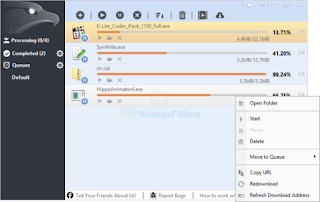 Features
Accelerate downloads by using multi-threaded
technology.
Download files in Chrome, IE, Firefox and Opera with
one click.
Support MMS, HTTP, HTTPS, FTP and RTSP protocols.
Download online videos from popular sites.
Built-in Media Grabber & Video Sniffer.
Built-in download scheduler for multiple queues.
Download different file types to separate folders.
Batch downloads function with clipboard capture.
Automatic refresh expired download address.
Support HTTP and SOCKET proxy.
Support fully customized User-Agent.
Monitor running and completed tasks with TaskMonitor.
Supports drag-and-drop to rearrange the priority of
downloads.
Automatic run virus scan after download.
Automatic convert media format after download.
Convenient task properties panel.
Detailed connection log for each task.
Verify integrity of downloaded files.
Shutdown, hibernate or sleep computer after completing
all transfers.
Built-in speed limiter.
Flexible notification configurations and Silent Mode
(Game Mode) function.
Import download lists from other download managers.
Customizable user interface.
Supports multi-language interface (more than 30
languages).
Where Can I Download it?
==>download it
here
on your PC
==>Run and install it
Enjoy the speed of download