Some of you will like this, some will love this and some
without thinking twice will dive into this. This is an awesome application
developed by Christ Embassy that let you make free calls and sms for free.
KingsChat
is a fast, simple and personal smartphone
messenger that allows you to send messages to everyone you love to talk to.
Switch from boring old SMS to KingsChat and start sending and receiving
messages, pictures, audio, location and video messages — and it's absolutely
free!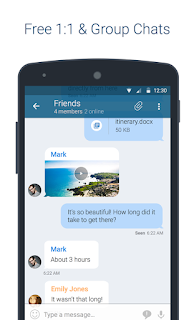 One good aspect about this app is for that fact that it's
3in1… it borrows ideas from
WhatsApp
, twitter and Facebook meshing into one
application.
It has a group chat, you can meet people, add them up and
start a conversation. It has twitter kind of timeline with hash tags… I guess
you don't want to miss this. Take away your boredom, take a stroll to your app
store and feel the breeze of a new
chatting app.
Unfortunately, it is only available for Android and iOS at the
moment.
Where Can I Download it?
For all Android users, you can download it
here
iPhone/iPad users can download it
here
Blackberry and Window
users, coming soon!
What do you think about this app?