Could this be real? Do they mean what they text?… This has
always been my prayers waiting for the day 5GB data will be sold for N100,
Alas! I got a text yesterday from Glo and the 
it says Get it easily, 1GB for N100 valid for 15 days!
Write 1 and reply, enter online world with this tremendous data bundle. Glo
Unlimited!
I don't know what their intention is on
this plan or maybe its for those who got the text, that I can't say but it
works.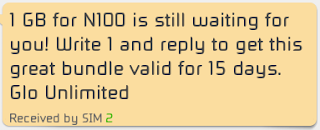 How Can I Activate it?
==>If you wanna try it out, load 100 or
more on your glo line and send 1 to 8070
==>Wait for some time and you should
get a success message like this "Dear Customer, your 1 GB data bundle
has been successfully activated. Enjoy it until …"
Mind you, this plan is only valid for 15days.Try it and enjoy the ride for the evening… Happy Ramadan Fasting to all my Muslim brothers!