It's weekend again and I've decided to give out the
premium template
I once used for a limited time. It
is a very clean, flexible, neat,
multipurpose, elegant and 100% responsive blogger/blogspot template. It makes
your blog looks absolutely professional and fast loading created
with
latest HTML5 and CSS3 techniques.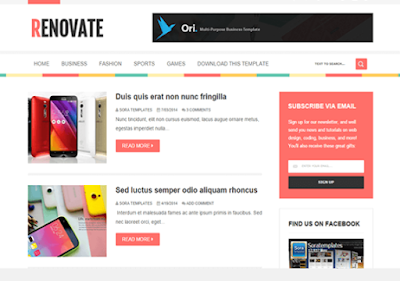 It
is fast loading and responsive, added
with lots of seo settings which will help you to rank higher in SERP.
Every element of this theme is well crafted and makes your site look
professional.
Features
1 Responsive
–
2.SEO
Friendly –
3.Google
Testing Tool Validator
4.Mobile
Friendly –
5.Custom
404 Page –
6.Fast
Loading –
7. Ads
Ready
8. Clean
Layout
9. Simple
Design
10. Drop
Down Menu
11. Featured
Images
12. Social
Sharing
13. Font
Awesome
14. HTML5
& CSS3
15. Browser
Compatibility
If you run a tech blog, and you like this design, you can
drop me a mail and I'll inbox you the download link, once you implement it,
drop your blog url let me help you review it.
You can see the demo
here
on mobile or with your PC.
NOTE: Try it on a
test blog before installing it on your main blog.
Happy Blogging!