If you can recall, sometimes in
January
this year, Live location
features was announced that it will be available to beta testers on iOS and Android
user but not to the normal users. Though, Live location sharing is not new, it
was mad available to
Google map
sometimes in March, followed by
Facebook
in the
same month,
Snapchat
in June and now, it is a thing of joy to see it roll out
to W
hatsApp Messenge
r.
Live Location Sharing on WhatsApp will be rolling out 'in the
coming weeks' to all Android and iOS
users. Live location sharing is end-to-end encrypted and you can control who to
share with and for how long. You're also able to stop sharing at any time.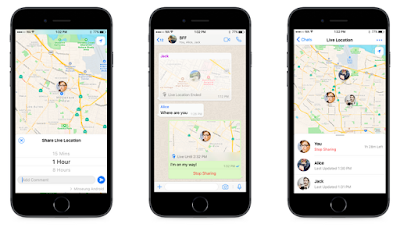 The Live Location Tracking
can be kept on for 1 minute, 2 minutes, 5 minutes, or indefinitely. Now imagine
that you have a lying partner, or a random player, with this feature, you can
easily trace their location in real time.
Or this could come in handy if
you're supposed to meet with your family at a certain location and time, and
you want to see how far away from the destination they are.
How to Turn On Live Location on WhatsApp?
To start live location sharing, open a chat with the person
or group you want to use it with, choose the Attach button then Location – the
new Share Live Location option is what you want to pick of course. Choose for
how long you want to share and tap Send.