Xiaomi Redmi Note 5 Pro with dual camera was announced last week and the
first ever flash sales took place yesterday.

Xiaomi claims over 300,000 units of Note 5 pro sold out in less than three
minutes, but fans are angry that the flash sales only took 10 seconds despite
the facts that some orders were cancelled.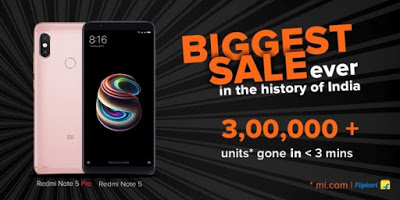 The first flash sale of the Redmi Note 5 Pro was boldly called "the biggest
sale in the history of smartphones" by Xiaomi India. One user responded with
"stop fooling us", then explaining the site crashed "within a second" and
criticizing availability.
The Redmi Note 5 Pro comes in four colors – Champagne Gold, Rose Gold, Light
Blue and Black. The price for the 4 GB RAM + 64 GB storage variant is $215,
while the version with 6 GB RAM costs $261.