Some inconsequential statistical piece of material has
been trying to defraud some other fellows using their so called BVN numbers.
Note that no bank will ever ask you to verify your bank verification number
online or otherwise.
This idiot message me early hours of this morning knowing
fully well that I don't bank with Stanbic IBTC.
Below was the message received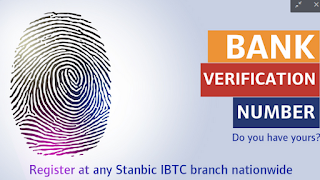 Dear Valued Customer

Please note that your ACCOUNT will be DISABLE to transact with
your card internationally
at the ATM, POS or online without your Bank Verification Number
(BVN).
To continue enjoying convenience and safety with your StanbicIBTC
account ,
Kindly validated your Biometric
Verification Number with your StanbicIBTCOnline account.

Follow the link START
VALIDATION

All information must be filled correctly, as failure to comply within 24hours
will have your remote access blocked.
Signed,
StanbicIBTC Bank
Note:
Idiots like this, once they have access to your BVN banking
details, they'll defraud you. Don't by any way or means click on that stupid
links sent to your email or via sms.