It will amaze you to know that the latest
infinix hot2
is
already warming up for Android M 6.0. it received system update of
23.2MB
to clear
and fix bug on your Android One device. Update is good but it is advisable you
take precautions.
If you are rooted, it is very important you unroot before
you update in order to avoid stories that touch. Once you've upgraded your
device, you can then root it again if you so desired.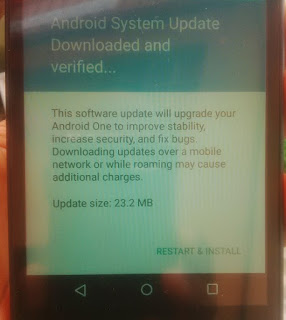 How Can I Unroot My Infinix Hot2 (Android One)?
==> Launch Kingroot app on your device>> tap on the
settings gear which is located at the top right side of the page.
==> Under the settings page, tap on Root Authorization setting > Remove
Root Permission > tap on Continue.
==>Click Ok on the pop up
==>Wait for a while and you should get a notification stating 'Root as been
removed'. Wait a little longer and the kingroot app will automatically close.
FAQ
>>>
I got the update for infinix hot2 buy always
experiencing an error during update
Ans: Check your internet connection… if your internet
connection is not fast enough or stable, you'll always get that error.
Are you still confuse? Ask your question.