Do I have testifier's reading this
post right now who have received at least 4 spam messages from MTN this
morning, 1 baptismal call from this number 033592 and one odoriferous saga
call from glo using this number 08152118487?
I have asked myself time without number if it's by force to
subscribe to a package on those telecom spam numbers? That awkward moment you
are expecting a congratulation message to come and pick up your appointment
letter, only for you to realize its an SMS from 54884  reminding you to subscribe for Daily
devotionals. Or you wake very early in in the morning, an SMS roll into your
phone only for you to realize its from Isaiah 65v8;  "…abeg , I tell dem say  I no get Daily manner for house?"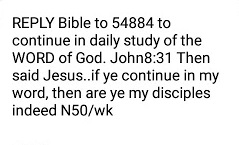 Features of True Messenger
–>You can block a name, block series of number from
sending you sms
–>Easily detect spam numbers
–>unveils names of numbers not stored in your phone
How to Block all Spam Messages
==>Download True Messenger
here
==>Install & run it
==>Set it as your default SMS app and you are good to go.
It's time to put a stop to all those robotic spam messages
on your Android devices.