Haba! Haba konga, This thing you people are doing there is god
ooooo.  Everybody knows pretty well that
Infinix hot2 is just
#17,500
, how come it's now
N210,000?
It is even more
expensive than
Tecno Phantom 5
. Even
iPad Air 2
is not upto that amount.
I was just minding my business when I saw this post and I
decided to search Konga site only to find what my eyes cannot say. And the
funniest aspect of it is that some inconsequential buyers has already fallen for this  because I
saw some units are sold already.
See Pictures below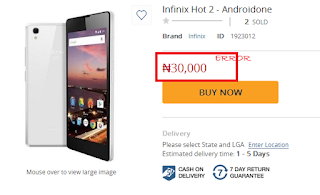 N30,000 SEE LINK TO THE PHONE HERE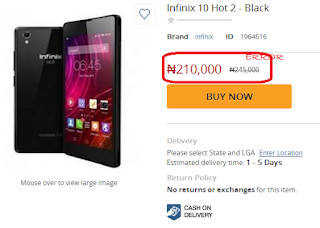 N210,000 SEE THE LINK TO THE PHONE HERE
See the pictures  and links to where the items are located.
Look at the pictures very well or probably the link shared above…, is the Infinix
hot2 made of Gold with golden sim? Abi when you eventually get this device at
that amount, you'll never charge nor recharge the phone for life?
The most annoying aspect is that some buyers has already fallen for this. See Infinix hot note pro going for N44,000 and 15 units as already being sold below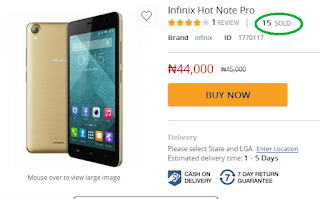 N44,000 SEE THE LINK HERE
Is this Konga's fault or the sellers who are hiking the price on Konga's market place? Before you buy your next device, make a thorough market research.