Its  high time you
start your tech year with awesome superb and unique smartphone wrist watch
instead of the old typical normal watch. I love wrist watch but I love more
when wrist watch become smart in the sense that, you can make call with it,
connect to your android phone and also bluethoot supported. 
ZGPAX S9 is one of those smart phone watch you should watch
out for this year. It makes your dress sense complete and YES it supports
memory card too.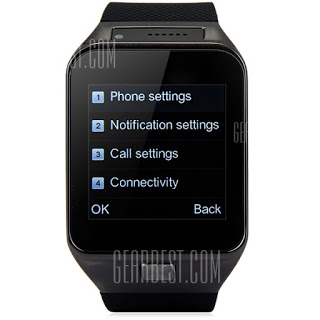 Support SIM card, it's a mobile phone, can
connect with Android phone.
ZGPAX S29 GSM Smart Watch Phone with 1.54 inch Touch Screen Bluetooth Camera
MP3 FM

Main Features:
Model Number: ZGPAX S29
Sim Card: Single Micro SIM Card single Standby
Service Provide Unlocked
Waist size: min 17.5cm, max 23cm
Total strap length: 25cm
Style: Watch style
Shell Material: Silicon + plastic
Resolution: 240 x 240 pixels
Display Size: 1.54 Inch
Bluetooth version: Bluetooth V3.0
Type: TFT, Resistive touch screen