It's
no longer secret that internet users are spending 50% of their time on social
media. Every day millions of people consume their content on Facebook,
Instagram and twitter just to keep to what is trending.
What
if you are told that you can convert the time you spend on Facebook, Instagram
and twitter making money on social media? What if you are told that you can
make enough money on social media by simply creating a 2min video…? This is
when Skits comes into play.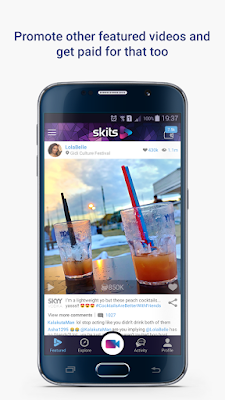 Skits
is a mobile app that lets you monetize your social activity by getting paid to
create fun videos for brands or to promote branded videos posted on Skits by
other users.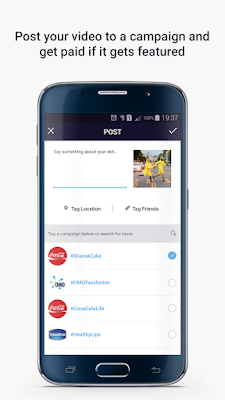 HOW
TO EARN
1. Promote a featured video:
Promoting featured videos posted by other users is the simplest way to earn on
Skits.
 •Discover featured videos on the
FEATURED
tab in the app.
 •Share any featured video from Skits to another social network like Twitter,
Facebook and
WhatsApp
, or even send it to your friends by email or SMS.
 •If your friends watch the video you shared, you'll get paid for each view. On
average, you will get paid about
2 coins for each view
you
generate, but potentially more, depending on the video budget and the total
overall number of views.
2. Create and post a video:
If you are the creative type, you can enhance your earnings by creating your
own video.
 •Record something fun and relevant to a campaign.
 •Tag the campaign and post your video.
 •If the brand features your video, you'll earn 10 coins each time
your featured video is promoted by other users.
In
other words, it's time to start making money doing what you know how to do best
instead of liking all your friends facebook update, tweets and instagram
pictures, start making money with skits app.
Where can I download
it?
While
iOS users can use the
mobile web app
until the iOS app is available.