I
bet you don't want to read this because you've heard a lot about
Airtel data plans
but my job is to make sure that you get the best possible cheapest data plan
ever suitable for your mobile device. Are you sure you still want to read on?
Ok,
Airtel Nigeria
has just unveiled another data plan called
Airtel Smart Speedo
and I must confess that this is one of the major steps taken by Airtel in democratizing
data tariff.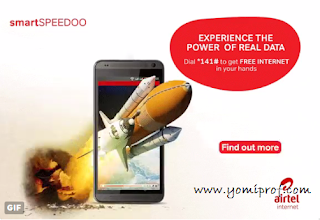 How
Does it Work?
Smart
Speedoo users enjoy low rate in addition
to free data the more they browse. According to Airtel, "When a customer uses
up to 10mb at 1kobo/kb, Airtel gives him 10mb free. And when his usage gets to
50mb, the browsing rate drops to 0.5kobo/kb, then he gets 50mb free. When the
customer's usage reaches 100mb, the rate drops further to 0.2kobo/kb and he is
given 100mb free,"
Note that this
cycle continues every month, thereby giving you the FREE SURF experience. I'm
sure you are smiling already because everybody love free surf experience.
How
Can I Opt in?
Dial
*141# and reply with 2 to get the plan rolling.
The
more you surf, the more data you get. Are you ready to experience this smart
speedo?