The government is doing all it can to bring the required change Nigerian
Youth need to harness their creative abilities. The government
has partnered with Huawei to develop a training course called
ICTforChange. It's designed for 18 – 30 year olds who have
University/Polytechnic degrees in technology-related fields and it's free
of charge.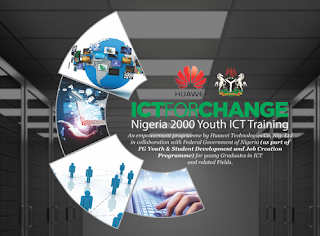 The training will cover ICT Fundamentals, Huawei Certified Datacom
Associate (HCDA) Certification, Telecoms Power Sytem, BTS and Microwave Installation.
Huawei will certify you after the training…Like I said, it is absolutely
free of charge. You can register on their site http://www.ictforchange.gov.ng/about-ictforchange/
Application closes on 15th of June, 2016.