Those of you using Swift 4G Network, get in here because SWIFT is giving 200% free bonus on data usage. You won't understand what it means to download 5GB file in 30 seconds if you are not using Swift 4G Network.
Swift 4G LTE is currently giving free xtra data package to its subscribers on business plan which is currently tempting for everyone using that network data.
Right now, you can get;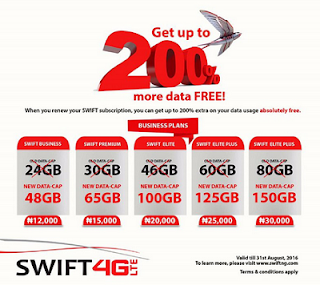 48GB for N12,000,
65GB for N16,000
100GB for N20,000
125GB for N25,000
150GB for N30,000
All you need to do is to renew your subscription and you'll get 200% extra data free of charge… Offer Valid till 31st of August 2016.
Don't Miss Out Business owners.