To those of you that need to download this weekend, get in
here, MTN want to make your weekend amazingly superb with endless download.
They are currently giving out a
WowWeekend
free data when you buy any of the
below packages. Got this message not quite long with the following offer
Special offer! Buy 100MB for N200 and get 500MB Free data
Dial *131*113#
Buy 750MB for N500 and get free 3.75GB free data dial
*131*103#
Buy 1.5GB for N1000 and get 7.5GB Free data. Dial *131*106#
Buy 3.5GB for N2000 and get 17.5GB free data. Dial *131*110#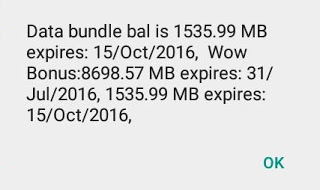 How Long Will The bonus last?
The bonus will last you for this weekend, expires Sunday
11:59PM
How Can I Check my Bonus Data?
Dial *131*4#
This is indeed a ridiculous free data offer that is definitely
going to end in a ridiculous way.MTN doesn't really care how you are going to
exhaust the 7.5GB or 17.5GB, what they care about is that it will expire Sunday
night 11:59PM