Does this suggest anything to you? Looking closely at the
new GTworld mobile app, a better improvement to what they have before, initiate
transaction with fingerprint or facial ID… inshort, good to behold but I'm kind
of skeptical about something, considering
the rate at which fraudulent activities are been carried out online and in the
banking sector this days.
I paid close attention to the developers email and I was
expecting to
[email protected]
but what I saw
left a big question mark on my mind @gmail.com which is totally uncalled for. I
proceeded to check the old GTbank mobile and it is @gtbank.com, checked zenith mobile app and it is @zenithbank.com, same goes to
Firstbank, UBA and some notable banks.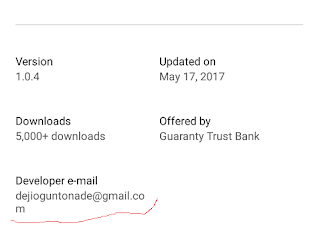 This may not mean anything to you but remember that when you
open the app, you'll be required to login, put in your ATM card pin.
Developers, is this legit or not? For me I don't know that
is why I'm asking…