Yea! iOS 11 is here and I've successfully updated my iPad to
iOS 11
. Should in case you haven't done
yours, here is a pretty simple steps on how to get
iOS 11
on-board your iPhone
or iPad.
iOS 11 comes with lots of amazing features like editing Live
Photos, customizing the new Control Center, Emergency Mode, the hard G GIF — Do not disturbed while driving and lot more. Meanwhile, iOS 11 will
supercharge the iPad with a new Dock, an honest-to-goodness file-management
system and drag-and-drop multitasking.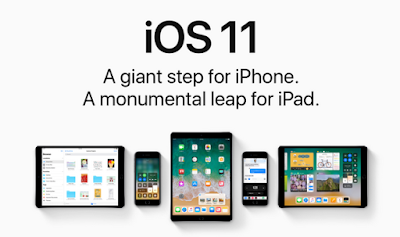 How Can I Upgrade my device to iOS 11?
There are two ways to update your iOS device but before you
begin, make sure you prepare your device for iOS 11, namely backing up your
device and creating enough space to download the update. You'll need about 2GB
of space.
Method 1
OTA Update:
If you are on a Wi-Fi network, you can upgrade to iOS 11
right from your device itself — no need for a computer or iTunes. Just connect
your device to a power source and go to Settings > General >
Software Update. iOS will automatically check for an update, then
prompt you to download and install iOS 11.
Method 2:
Via iTunes:
Note: if your iTunes is not updated , kindly update to v12.7
>>Connect your iOS device to your system. Itunes should
automatically pop up.
>>Click the iPhone or iPad icon in the top-left corner of
iTunes, next to the drop-down menu for the various sections of your iTunes
library.
>>Click on Check for Update >
Download and Update.
>>Follow the prompts, accept the terms, and let
iTunes will complete the process.
Its simple and fast and I bet you'll love the new look on
your iOS device.