I have never been scared of taking risk; I've only been
hyper sensitive on the result of the risk taken
. I am making this post to those
who have been asking a lot of questions about MMMunited and if actually I get
my
Bitcoins
multiplied by United. MMMUnited has been on for some time now and
guys are seriously into it.
I have been into it for some months, and I have never
regretted been part of it. I started with $300 USD and now I have $1480 USD
worth of bitcoin. Meaning I've been able to realize $1180 bitcoins from MMMunited.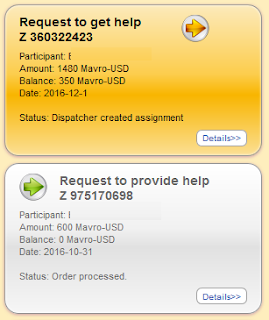 A lot of people keep asking if MMMUnited is real or not…
permit me to answer you from this angle 360° that
MMMunited is real and I can't tell you if it will crash today, tomorrow or not.
All I know is that the risk is worth taking.
Jim Rohn said
"If you are not willing to risk the unusual,
you will have to settle for the ordinary"
. I have risked $300, and now I have
$1480 USD, enough to carry me for
Christmas
Shopping.
Can I Cash out before 30 Days?
Yes, but you can only cash out your referral bonuses and
your investment before 30days. Meaning if you cash out before 30days, you won't
get the 100% growth in your investment.
Must I use Bitcoin for MMMuntied?
Yes, that is the only available payment options.
Can my Account be Hacked?
Yes, some accounts were hacked, and their bitcoin address
was changed. So I'll advice if you are into it, guard your login details
jealously. Also, those of you who are into it, before you GH, make sure you
check your bitcoin address if its correct or not otherwise, the miners will
share your profits.
Note: You do it at your own risk
So those of you who are benefiting from MMMUnited, tell us
your experiences so far.
Remember,
CryptoCurrency
is the future of money; it is time
to acquire a lot of bitcoins and use it for your profits.