MTN is giving you an opportunity to exchange your Kpalasa…
that Kpalasa that doesn't receive system update… that Kpalasa that has been on
Kitkat for a very long time. That Kpalasa that you normally use rubber band to
hold and support the battery with paper, and I'm pretty sure you know the Kpalaza MTN is talking about ?
In return, you'll get 6 months 100% bonus data on any
recharge.
In other words, Upgrade to a new smartphone today and enjoy
double on any
MTN data bundle
subscription for six months. This means you can enjoy as much as 7GB
for N2000 for 6months.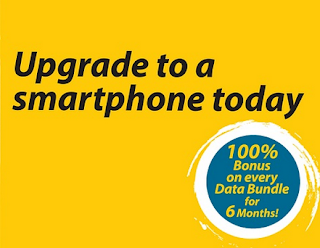 How Can I Partake of This offer?
1.
Buy a Smartphone phone from any
store
in Nigeria or existing smart phone owners can also;
–
Insert a registered MTN SIM
– Wait for a notification of the bonus offer
2.
Simply dial *131# to activate your preferred bundle plan and you will get
double the data.
Note
Dual SIM phones, and if both SIM slots are 3G enabled, you
can still enjoy the offer irrespective of the SIM slot used.

But if both SIM slots are not 3G/4G enabled, you will not be able to use.
Offer is only available for SIM slots that are 3G/4G enabled.
No matter how you love your old Kpalasa, you just have to
divorce it before it will pass away with change.