Who is
using Kwese TV decoder here?
The newest P
a
yTv provider in Nigeria,
Kwesé TV
has entered a distribution agreement with MTN Nigeria towards increasing its
market spread, getting closer to consumers and having more of the market
share.
According to the partnership, Kwesé
TV will be using MTN stores across Nigeria to coordinate sales of its decoders.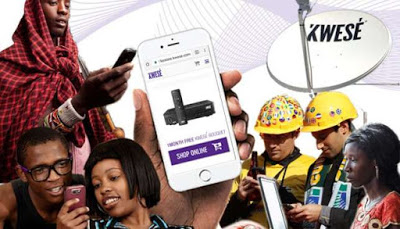 Kwesé Tv is a subsidiary of the Econet
Media Group, which is owned by Strive Masiyiwa. Also, MTN Nigeria is
the largest and most widely spread telecommunication provider in Nigeria. As a
result, this partnership is anchored increasing market presence and share of
Kwesé TV in Nigeria.
Aside the use of MTN stores as major sale points for Kwesé TV's decoder, MTN
subscribers would also be enrolled on the Mobile Video platform of the Kwesé
Network. They would be offered an exclusive video data bundle service in the
New Year.
As a result, increasing its premium mobile video products consumer base in
the country. With this move, the market leadership of DStv and GOtv Nigeria
will fall.
MultiChoice Nigeria is no longer scared of TStv but are totally scared of
Kwese TV. The battle has just began.