Without much doubt,
OS 10.3.1
comes with many incredible new
enhancements and I wrote something about upgrading your OS with
Sachesi
some
couples of days ago because the update was not available for all as of that
time. But I have a good news for every
blackberry 10
users, the update is now
available; so if you've been unble to use
Sachesi
to upgrade… you can now do
this with one click.
Why Should I Upgrade my OS to 10.3.1?
The latest OS 10.3.1 is superb with amazing features
==>Blackberry Blend: Blackberry Blend is a new simple way to
effortlessly view your BB messaging and content on your computer or tablets.
==>Blackberry Assistant: it also comes with BB assistant;
an incredible personal assistant intuitively controlled by voice or text.
==>
Amazon Apps store:
This time around, you need to
wonder how to install android apps on your blackberry 10… It comes with a
default
Amazon Apps
store with 1000's of Android apps suitable for your bb10
for free.
==>Battery Enhancement: this will help boost your battery
efficiency by up to 15%.
How Can I Upgade?
Before you begin, please back up your current version of OS (It's very important)
==>Go to Blackberry Appstore>>>The first message
you'll see will be your OS 10.3.1 upgrade message as seen in the image below.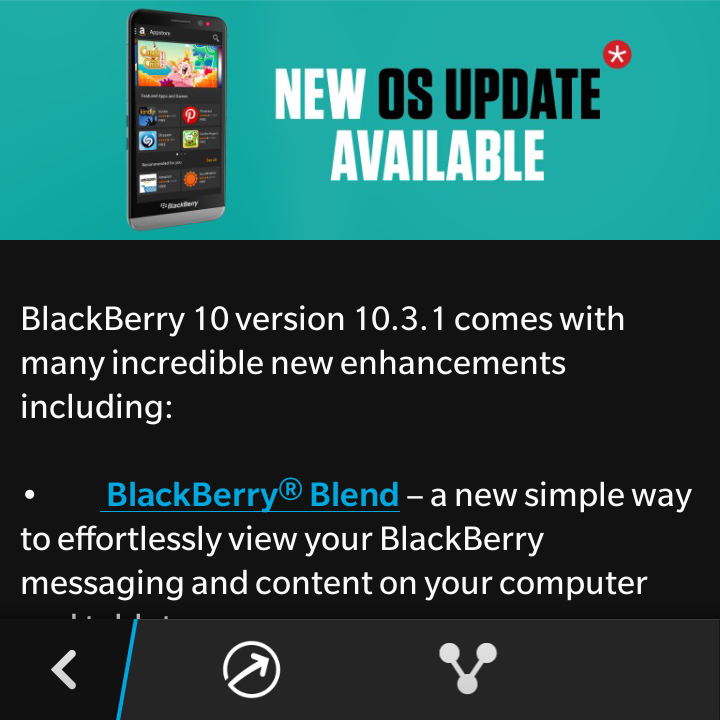 ==> Make sure you are connected to a wi-fi or you have
your data enabled modem plugged to your
PC with Blackberry Link installed.
If you don't have blackberry link, please download one here
or use Wi-Fi directly on your mobile.
==>It will take some couples of min between 30min – 60min
depending on the speed of your internet network.
Once you are done upgrading, your device will reboot and …
Welcome to OS 10.3.1