We don't know if this is true or note but a smartphone case
manufacturer has leaked the official dimensions of both the
Galaxy S8
and
Galaxy S8 Plus smartphones, several months before their official unveiling.
According to
GSMArena
, the
Samsung Galaxy S8
will reportedly
weigh in at 140.14 x 72.20 x 7.30 mm, being a bit shorter and thinner than the
Samsung Galaxy S7, but also wider than the 2016 flagship.
And the screen size
works out to be 5.7". Means the Galaxy
S8 will have a larger screen than the S7 edge while being about the size of the
S7!
And the larger Samsung Galaxy S8 Plus will measures 152.38 x
78.51 x 7.94mm. That's taller and wider than the current S7 edge; maintaining a
6.3 inch display.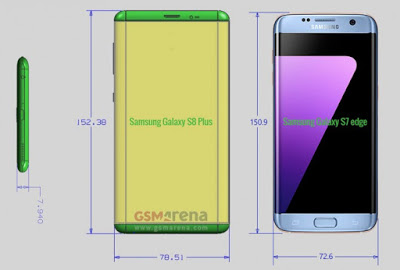 As you can see from the two leaked images, both phones seem
to lack home buttons since they will both have an ultrasonic fingerprint
scanner embedded below the display. Take this info with a pinch of salt until it is unveiled.