I'm sure you still remember
Android One
Program… Well this
isn't Android One 2.0 but something different. Something Google called Android
Go. At its IO developer conference, Google has unveiled
Android Go
; an
initiative created to cover the empty tracks left by Android One Program.
Android Go is a version of the popular mobile operating
system that has been optimised for smartphones with 1GB or less RAM, thus
primarily aimed at emerging markets. It's essentially a set of features and
apps for Android, which are set to debut with Android O, that are designed to
limit both devices' system resources and mobile data, helping people in
developing nations have a reasonable mobile experience.
What is Android Go?
Android Go focuses on three things – optimising the latest
release of Android to run smoothly on entry-level devices, a rebuilt set of
Google apps that uses less memory, storage space and mobile data and finally a
version of Play Store that will not only provide the entire catalogue but will
also highlight apps specifically designed for entry-level users. These three
features will ship to Android O devices with 1GB or less memory starting in
2018.
Android Go devices will have data management and savings in
quick settings, and teaming up with carriers will let you keep track of how
much data you've been consuming with the ability to top up.
Android Go apps
Google is also
designing apps like YouTube Go, Chrome and Gboard to use less memory and are
easy on mobile data. The company is making optimisations to the system UI and
the kernel to allow an Android O device built with the Go configuration to run
smoothly on as low as 512MB to 1GB of memory.
Lastly, a special, Android Go-exclusive Play Store was also
announced, designed specifically to highlight apps built with Google's
so-called "Building for Billions" best practices for app developers,
or in other words, made to conserve data and device resources, such as Facebook
Lite and Skype Lite.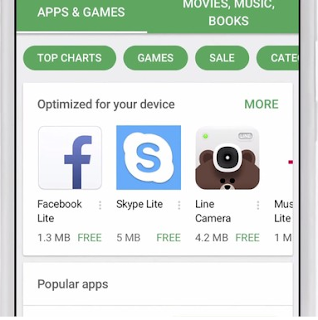 The new play store will show apps designed for low- end devices
The first Android Go devices are going to arrive in 2018,
Google says.