The most valuable information on your Android devices are
your pictures, files or video. And we've all accidentally mistakenly hit the
delete button without knowing what else to do. But don't panic; you can recover
everything you've accidentally deleted on your phone.
There are many tools out their but I'm going lay more
emphasis on DiskDigger.
DiskDigger can undelete and recover lost photos and images
from your memory card or internal memory. No rooting necessary! Whether you accidentally deleted a photo, or
even reformatted your memory card, DiskDigger's powerful data recovery features
can find your lost pictures and let you restore them.
The free version
of DiskDigger can recover photos and videos only (recovering videos requires
your device to be rooted).
The
Pro
version
can
recover
other types of files besides photos and videos, and also allows
uploading recovered files over FTP (again, recovering any types of files
besides photos requires your device to be rooted).
Where Can I download it?
Steps to Recover Your Files
>>Launch the app, it will display two options:
"Basic scan" and "Full scan." The "full" scan
functionality is available only on rooted devices, whereas the "basic"
functionality is available regardless of whether your device is rooted.
>> If your device is not rooted, tap the "Start
basic photo scan" button to continue, and continue to the "Scanning
for files" section below.
>> When you use the app on a rooted device, you may
see a Superuser request window. Make sure to press "Allow" in order
to grant DiskDigger root access.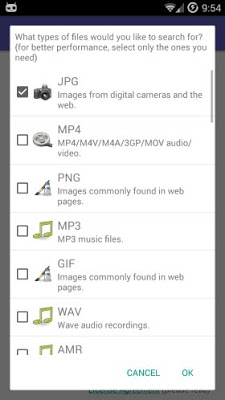 >> select the types of files that you'd like to
recover. For better performance, please select only the file types that you
actually need.
>>Wait while DiskDigger recover your files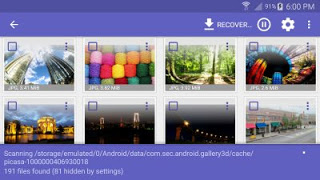 >>You can now save the recovered files to your device,
or an app or via FTP.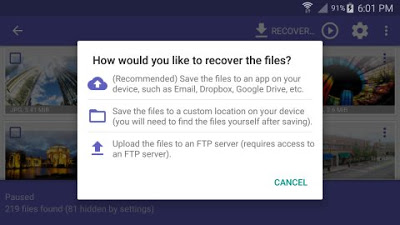 With DiskDigger, you have nothing to worry about loosing any
files or photos on your Android because it will recover all.
Have you used it before? Tell us your experience…