I'm very sure you can't count the number of times your bank
account balance has given you the danger sign this year… There are times that
you are just pinned to the wall and you need a narrow escape out of it but your
bank account is reading "red", in such a situation, getting a loan might be
your only option.
Etisalat soon to be rebranded is here to save you out of
zero account balance with the newly launch KwikCash.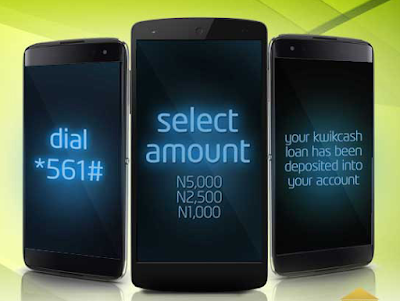 KwikCash is another innovative solution to meet the loan needs of Etisalat
Subscribers.
Etisalat KwikCash is a mobile loan solution, that allow you to access loans
of up to N100, 000 just by dialing *561# with your Etisalat line and get
credited in minutes.
Steps to Get Loan With KwikCash
Step 1: Dial *561#
Step 2: Follow the USSD menu to ''Request Loan''
Step 3: Select preferred loan offer
Step 4: Select bank and input your 10-digit NUBAN
Step 5: Confirm repayment amount and accept terms and
conditions.
How Can I Pay Back?
Step 1: Dial *561#
step 2: Follow the USSD menu to ''Pay Loan''
step 3: Select preferred payment option
step 4: Follow the instructions accordingly
step 5: Repayment is immediately processed
Remember, everyone is eligible to
borrow so long you have etisalat sim.