Regardless of the ongoing Re-branding of Etisalat… a deadly time blow that
made them to pullout of Nigeria, they've refuse to bow down to pressure and
always having the interest of the 21 million subscribers at heart.

Etisalat yet again introduce another bonus offer called #SBORevamp, a
special offer for all new and existing customers on the etisalat network. The
offer gives you upto 10x your recharge daily for 30 days.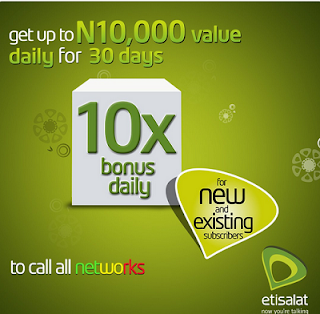 It is open for both new and existing subscribers.
For new customers: get 10 times the value of your recharge daily for
voice calls and data to all networks in the first month.
For existing customers: get 7 times the value of your first
recharge daily for voice calls only to all networks for 30days.
How Do I Activate?
Dial *819*1# to enjoy
Note that new customers also get 7times the value of their recharge in the
second and third month.