In as much as we have every reason to murder the slow motion network,
they have every reason to say they love Nigerians. I'm pretty sure you can
vouch for Glo for the
cheap data
they are offering you compare to some other
insane expensive network.
Glo has announced
three bonanza packages called the Glo Everyday Bonanza, Glo Jumbo SIM,
as well as the already popular Glo Free Data day.
Glo Everyday Bonanza
According to Glo, 50 lucky Glo
subscribers will win LED TV sets every Monday (a total of 750 TV sets), 150
subscribers will win 4G LTE enabled smartphones every Tuesday (a total of 2250
4G LTE phones), 100 subscribers will win generating sets every Wednesday (a
total of 1400 generating sets), another 100 subscribers will go home with
refrigerators every Thursday ( a total 1400), 200 winners of Microwave ovens
will emerge every Friday ( a total of 2800 microwaves), while Saturdays will
see 650 lucky subscribers go home with 4G LTE Mifis (a total of 9100). Sundays
will witness the epic giveaway as Glo will be giving out one Hyundai Accent to
a lucky subscriber every Sunday (a total of 14 cars).
The offer is
open to new and existing pre-paid and post-paid subscribers.
How Can I Participate?
To qualify,
all a pre-paid subscriber has to do is recharge everyday with N100 and
above to stand a chance of winning any of the available items for that day. For
Post-paid subscribers, all they need do is use up to N100 daily to
qualify.
Glo Jumbo SIM
Jumbo SIM gives a
subscriber value that is not only unprecedented but also unimaginable in
Nigeria's telecoms industry. Jumbo SIM for 100 Naira
will automatically have an airtime value of N200,000 pre-loaded on it, and will be activated
as soon as the subscriber recharges his or her phone.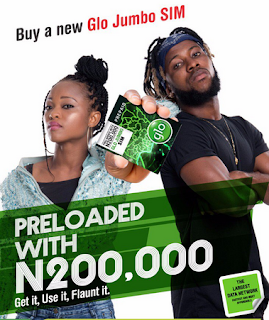 Glo Free Data day
Glo data day comes up this 31st of October. Here is the
deal, subscribers who use 100MB plus N150 on voice calls OR N250
on voice calls a week before that day from any or a combination of
methods such as Pay as you use, purchase of data plan and usage from existing
data plan will enjoy a FULL DAY of FREE browsing, chatting, streaming,
downloading, uploading and lots more on the 31st of October.
What do you think?