I'm pretty sure that those of you who are
swisscoin investors
are taking full advantage of the coinexchange price of SIC… It is still fresh and very cheap and I don't want you to miss out. While you are still waiting for your coin to be officially transferred to your web wallet, take advantage of
coinexchange
price because you can get more coin for less price.
However, I'm going to show you how to stake your coin and
earn rewards.

Swisscoin blockchain uses a
"Proof of Stake"
function. Unlike bitcoin where you need heavy amount of energy to mine coins, in
swisscoin
, all you need to do is stake your coins and you will be rewarded with the transaction fees in the block you stake each time you are the chosen "forger", this is randomly chosen but the more volume you stake, the higher chance you have of being the chosen one.
1. First of all, you'll need to download the offline wallet which
you can easily get from your back office>>blockchain>> offline wallet –  download it to your PC computer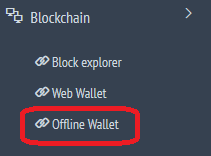 Alternatively, you can download the offline wallet below:
WINDOWS OS
https://storage.swisscoin.eu/system/SIC-Offline-Wallet-Windows.exe
MAC OS
https://storage.swisscoin.eu/system/SIC-Offline-Wallet-MAC.dmg
Linux OS
https://storage.swisscoin.eu/system/SIC-Offline-Wallet-Linux64

2. Allow it to Synchronize with your network (Note you must have
active internet connection)
3. Finally, if your wallet is locked, go to settings and click
on unlock wallet. Check the left hand side of your desktop wallet to see if the
padlock is open.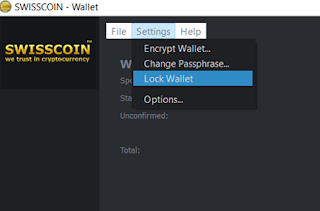 4. Once you are done with that, you can then transfer your sic funds from coinexchange to desktop core wallet.Once you are done transferring your sic to desktop wallet,  leave your system connected to the internet every hour with the desktop core wallet open. You would keep earning POS reward.
How to Back Up and Restore SIC Desktop Wallet?
This is the most important part, because this process helps
you to retrieve your funds in case if your system crash or stolen.
Note: Save your back up files in an external hard drive, cloud storage or even in your email.
>>Open your desktop wallet
>>Go to File>>Back up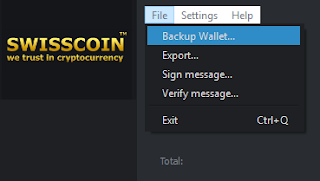 >>Save with the name 'wallet' … Done!
To restore it back
>> For windows user, simply locate %APPDATA%Swisscoin  using windows search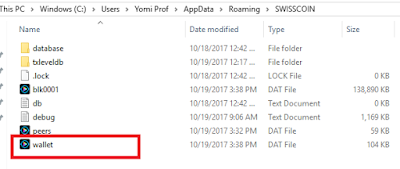 >>Replace the wallet  as seen
above with the one you backed up
You are done
>>For Linux users, locate ~/.swisscoin/
>>Mac OS users, locate ~/Library/Application
Support/Swisscoin/
That's it guys.