Truecaller,
the popular caller ID app, has launched Truecaller Backup for Android, a new
feature which allows users to backup and restore their contacts, call history,
block list, and settings.

The feature comes in handy when you're switching to a new phone, getting a
new SIM card, or resetting your device. Truecaller Backup simplifies transition
to a new phone without losing contacts, call logs, etc.
How Does it works?
Truecaller will create a
private folder on your Google Drive to store the backed up files.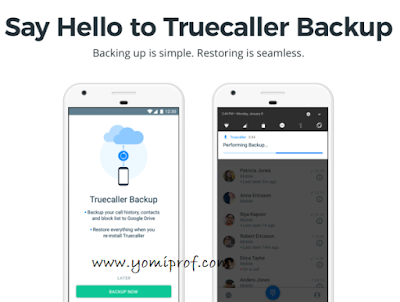 Note, Truecaller does not inspect nor have access to this
folder.
How to enable backup?
Enable feature through the wizard or within the app
settings
Select Google account to store the backup
Grant Truecaller access to Google Drive
How to restore backup?
Make sure the same Google account that was used to
perform the backup has been added to your phone
Uninstall and reinstall Truecaller on your device and
you'll be prompted to restore
Wait for the restore to finish and restart Truecaller
What does truecaller backup?
Contacts
Call log and search history
Unknown numbers identified by Truecaller
App settings
Blocklist
Before You Begin, It's important to note the following;
Truecaller does not restore picture of your contacts
Does not restore ringtones, as it's a system setting
You can only restore during activation (through the
wizard)
Backup is tied to your phone number and Google
account
Backup frequency is by default set to weekly (daily and
monthly can be set within the app settings)
Google play services version 11.6.0 or above is
required
Yea or Nae?