Why did you root your phone if you can't take the risk to
explore your device? Permit me to humorously say that, majority of you using
Android devices are under-utilizing your devices. Why did you take the risk to root
your phone? I know some of you will tell me
"it's
because I want to tweak my IMEI"
… but do you know you can tweak your
imei
without rooting your phone?
Do you know the risk involve granting your device rooting privilege?
It means you've lost your warranty; why can't you just explore the risk of
installing great apps that will help you explore your android since you've
already taken the risk to root it.
Rooting and risking what you are about to read is like a
Master architect that draws a plan, complete the plan and tears it down again.
Meaning in the process, you'll stand the risk of bricking your android device.
If you don't have the mind, don't read further, close this
page, and update your status on
FaceBook
with
"It's risky not to take risk"
.
Note: This May Brick Your Device For The Feeble Hearted.
==>
Disk Digger
: Just like the name goes, Disk Digger… it let
you dig your disk. This app let you recover any deleted files on your android
devices even though you've already formatted your sd card. Delete it and disk
digger will recover it for you.
Note that Free version of this app only recover photos and
MP4 videos. For other files recovery, install the pro version.
==>Lucky Patcher: This app is super crazy and
exceptionally awesome. It patches all paid apps on Google play store.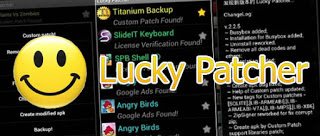 You want
to be the boss of your device? Then see what lucky patcher can do for you
here
==>
System App Uninstaller
: This application let you
uninstall any system apps that can't be normally uninstall or any stopped apps
that refuse to uninstall. Not only system app remover, but also user app uninstaller,
move app to sdcard, move app to phone, apk on sdcard
scan/install/delete, rooting guide help.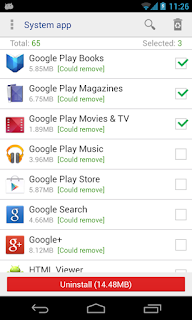 ==>
Xposed Installer:
This app is not only use to temporarily
change Qualcomm devices imei
but also
act as a chairman on your devices by allowing you to install different modules
on your device. Xposed modules are just APK files that can be installed like
any other APK files. For instance Gravity Box is an
Xposed Installer
module
that lets you customize almost everything about your UI.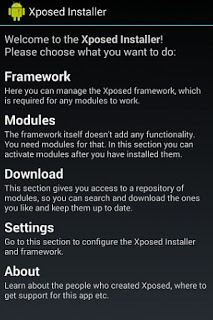 No long stories… more details on dedicated post on Xposed
Installer.