WordPress is a content management system that has made it very possible for people with zero to little coding knowledge and experience, start a blog or website within few hours.
It was recorded that 1 out of 3 websites is powered WordPress CMS software – https://blog.hub8.com/ng-domain-usage-statistics/ . In case you don't know, this is quite a lot. All these websites that are using WordPress have WordPress optimized hosting.
For a CMS as simple and also well-constructed as this, a strong and reliable web hosting server is needed to make it function to its full capacity.

From my experience, Nigeria has very few if any, web hosting companies that can perfectly host a blog or website powered by WordPress without any glitch or downtime, before the arrival of HUB8 web hosting.

HUB8 offers an affordable and complete web hosting package that caters to all the needs of a fully functional WordPress powered website.
As most of WordPress powered website are blogs, this means they receive a bulk load of traffic due to the type of website they run. This translate to a lot of bandwidth needed.
In other to avoid situations whereby a website might experience a downtime as a result of a viral blog post or maybe a promotion. HUB8 has made sure all WordPress hosting plans has an unmetered bandwidth capacity and more than enough storage space depending on what your website data load is. For a service like this to be fully functional in Nigeria at a world standard level is a blessing on it own.
HUB8 WordPress hosting comes with 55 premium responsive WordPress template, and you can install other external free or paid themes unto your server space. Which means you can start any type of website such as a Blog, Business page, E-commerce, Social Network, Forum, Q&A, Classified ads, Job portal etc.
All these can be installed on HUB8's WordPress hosting server and you rest assured that your website will run without any glitch and you also have the full backing of a dedicated and very responsive tech support team 24/7.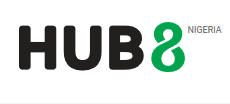 Apart from the ridiculously generous unlimited bandwidth that is way too much for a hosting as cheap as what HUB8 hosting plans cost. You also get to enjoy the feelings and privileges that come with hosting on a 5X ultra-fast SSD disk space and top-notch security levels that are second to none in the hosting industry.
From all this alone, I believe it has been proven way beyond doubt that hosting with HUB8 cannot be compared with the same old run of the mill kind of hosting we are used to in Nigeria.
As a blogger, I have always clamored for a day when web hosting in Nigeria will meet up with world standard, and I have long given up on that. With HUB8 I have gotten back my faith in the Nigeria web hosting industry and I can now boldly recommend a hosting network without having any second thoughts whatsoever.
HUB8 has started a movement in the web hosting industry that is unlike what we are generally used to, and we all owe it to ourselves to support HUB8 by sharing this post and making sure to check them out.
HUB8 also offers a free web hosting plan,  that has the same features as what most "TOP" hosting companies in Nigeria consider a cheap hosting plan – https://ng.hub8.com/hosting/free .
Feel free to give it a free trial and come back here and give your testimony.