This is more like giving the citizens bread with right hand and collecting double back with the left hands. Just yesterday, the government announced to give 10 million Nigerians free internet and today MTN is set to increase the price of SME data by almost 50%.
This is not the first time SME data price will be increased; it was increased in December last year and about to be increase again come August 21st 2018.
According to the official text message sent to all SME data sellers;

Dear Customer, from August 21, 2018, the following prices will apply to MTN SME Data Share: 10GB at N7,500; 20GB at N14,000; 50GB at N30,000. Thank you.
Old Price 10GB–N5,500; 20GB–N11,000; 50GB–N25,000.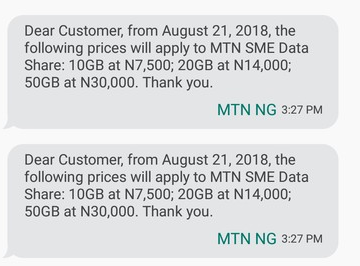 Once the above price takes effect from the 21st of August 2018, you may no longer be able to buy 1GB for N600, 2GB for N1200, 3GB for N1750 from any third party data reseller again. I don't know what the price will be but I'm sure the price will make you consider between buying from third party reseller or directly from MTN.
Therefore, we advise customers to buy data in bulk now to last you for 3 months before the proposed increment takes effect.
This is not a good move at all… #MTNBringBackOurNormalRate!