After few weeks of launching 4G LTE in other states in Nigeria, Telecommunications service provider, Airtel NG, has entered a strategic partnership with Coverage Broadband (CB) a subsidiary of Phase3 Telecom, to launch 3flix mobile TV service.
With this partnership, customers who subscribe to a special, bundle data plan on Airtel will now have unfettered access to 3flix live television channels.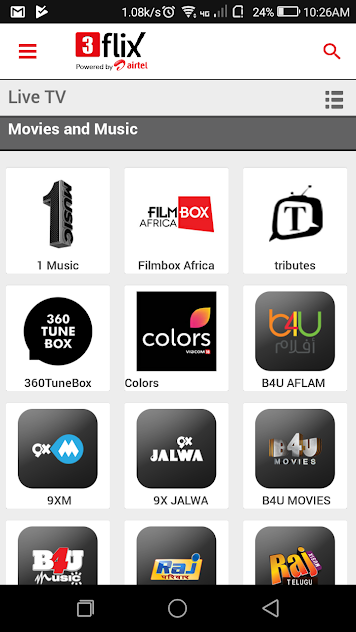 3Flix is a Mobile TV service which enables users to watch TV channels live on Mobile devices. Focused on emerging markets with a view to offer subscribers a unique technology based experience of TV viewing on Mobile phones without consuming much data. The direct streaming WAP Platform is www.3flix.tv
The service is an excellent family entertainer currently having 42 live TV channels covering all genres.
In a statement, the company said, "The product boasts exciting content that is affordable and runs on ease-of-use features for subscribers to stream live TV on the go.
The 3flix TV app is designed for smartphones, and provides premium television content to subscribers across the country.
Where to download Airtel 3flix mobile app
You can download it here
Let me guest, 3flix is here to compete with the likes of Iroko, iFlix and Netflix…