The largest messaging app WhatsApp has added another feature
to its app and very soon, it will be roll out to all WhatsApp users. Right now,
it's still a server side test available to some beta testers.
You'll recall that sometimes last year Facebook started
rolling out colored statuses on its Android app that allowed users to write their
status update with a colorful background, font, and emoji combination. Now, the
same feature has been spotted on
WhatsApp
new status screen as well.
Though not all currently use the Status feature, Perhaps
WhatsApp hope it will convince people to start using the status feature.
How to Use The New Colored Status Feature
Go to the Status tab
and look for the floating pencil button on the bottom right.
I don't have it on my phone yet even though I'm on the
latest 2.17.291 beta version, but its already visible on some beta testers WhatsApp version, so it could be a server
side switch or it might require you clear app data to show up.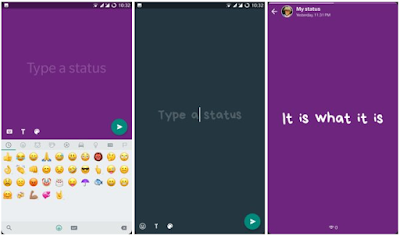 If you are a beta tester, you can update your WhatsApp to the latest on
Playstore
. Do try it out and let us know if
yours is now active.