Homtom P1 – Now we are going to be having something different, something other smartphones lacks… a smartphone with an inbuilt projector.
Atleast its not like other smartphones coming with 5 camera and manageable battery capacity. This one come with entirely different feature… a projector.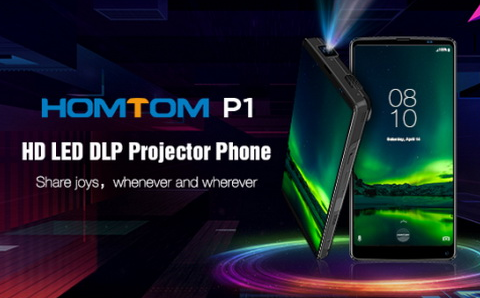 HomTom P1 is a smartphone with a built-in projector. It has a fairly large display with an aspect ratio of 18:9, a single main camera and a front camera located below the display. It also comes with a special liquid cooling system, housed by a battery capacity of 5500mAh.
It will also be coming with an OSRAM illumination and Texas Instruments DLP pico projector with native HD resolution of 1280 x 720 pixels and capable of delivering brightness of 150 lumens.
Whatever you do on the smartphone can be projected for others to watch. The full specification has not been unveiled and same goes to the price but Chinese products are less expensive.
This phone is coming soon.