Airtel 4.6GB for N200 – A lot of people have been rocking this offer over the past weekend. It has been posted before and we just want to ask you if you are part of the eligible Airtel subscribers.
Airtel is currently dishing out mind blowing offer to its users who are eligible and it appears almost all but not all subscribers are eligible. Some individuals have been lamenting despite using different sim yet, not eligible.
Airtel 4.6GB for N200
Send 'GET' to 141
If you get a congratulations message as shown below, then you are eligible.
Dear customer, CONGRATULATIONS! You can enjoy 100% DATA BONUS ANYTIME EVERYDAY FOR THE NEXT 3 MONTHS.
Purchase Airtel recharge card worth of N200 NGN.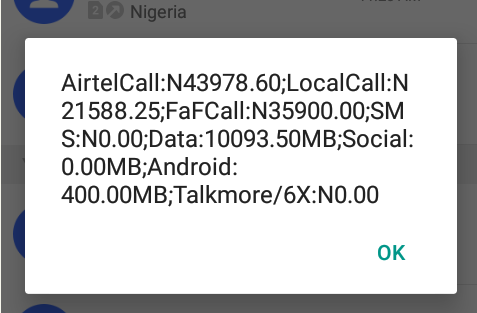 Recharge the Card/Voucher by Dialing *143*PIN of the Recharge Card# You will be given data bundle worth 4.6GB.
How to Get 23GB for N1000
Buy another Airtel recharge card of 200 NGN up to 5 pieces.
Recharge by dialing *143*PIN of the Recharge Card# for each of them.  You will be able to accumulate up to 23GB of data.
Dial *223# to check your data balances.
Some of you have changed sim, change phone and even change wifi but still not eligible, while some just try it once and they are eligible. Let us know if you are eligible.
While 9mobile 1GB for N200 has stopped working for some subscribers; I guess some of you have been using for the past one year and now it appears you've been kicked out of the scheme; while some are still lucky to be rocking the offer.