About 30 to 40% of Android smartphones seems to experience this issue in their lifetime or atleast expect it. It feels so annoying watching your Android smartphone automatically operates itself… I'm talking about your screen flashing, flickering, or blinking in and out at seemingly random times.
The good news is that there is always a way out regardless of the reasons for your smartphone screen flickering
Solution to Android Phone Screen Flickering
Solution 1: Restart Your Phone
A quick restart fixes most software problems with anything, not just Android devices. Turn off your Android phone completely for atleast 15 seconds and Power it UP again.
Solution 2: Change Developer Option
After a quick restart, go to your developer options which can easily be located from settings. In your Settings, scroll down to About phone or About device>> build number. Tap it about six times or more, and you'll get a message telling you that you now have developer access.
Go back to your Settings menu, and you'll now have a Developer options menu to use. Go into your new options and scroll all the way down to the Drawing section.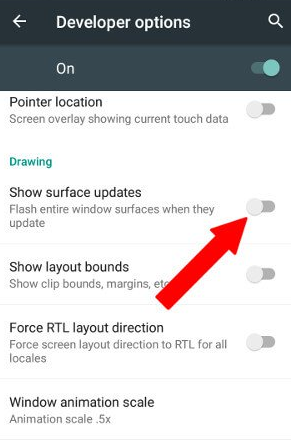 If you have the Show surface updates switch enabled, disable it. Then go down one more section to Hardware accelerated rendering until you see the option for Disable HW overlays. 
Enable the option so your Android only uses your GPU for screen compositing. Screen flickering happens when your Android switches between GPU and CPU for the same job, but enabling this eliminates the choice, and gets rid of the flicker.
Solution 3: Reduce Your Smartphone Brightness
Go to your display and disable auto-brightness. There should be a difference after that. But if the problem persists, then it is a software issue.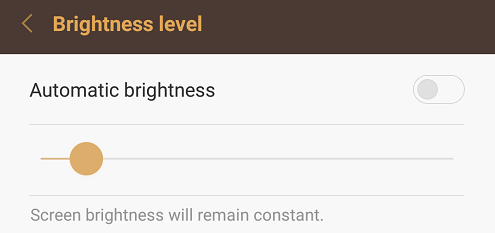 Like we said earlier, this is one of the most annoying issues of Android smartphone but applying any of the method above should fix your device for you. Let us know if this help.