After shutting down Google Plus, Google has unveiled Currents, a new G suite app that enables people to have meaningful discussions and interactions across your organization, helping keep everyone in the know and giving leaders the opportunity to connect with their employees.
According to Google, Currents is a perfect replacement for Google+ and has a new look, feel, and set of features. Google+ content will automatically be transfer to Currents once enrolled in beta.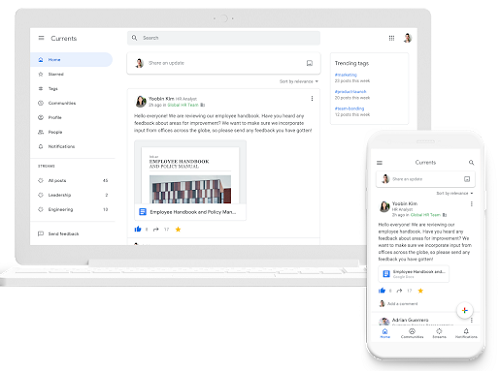 "Once a user posts, others can comment, give feedback, and ask questions all in the same place."
With Currents, leaders can engage with their employees more directly. Admins can shape the discussion in the organization by creating custom streams to promote specific content to a targeted set of employees or the entire company.
Admins can delegate content management responsibilities to a new role called Content Administrator.
How to Get Access to Currents
The app is still in beta; to require access as an admin to the beta program, kindly email [email protected]