I don't know what MTN intend to achieve with this new package but probably for emergency or low earners… but if I may ask, how many hours will it take to exhaust 30MB mtn data?
Because MTN Nigeria just introduced a new package that gives you 30MB for N50 available only to subscribers on Beta Talk. To open a page on desktop or mobile, you know how many MB it will consume; to open Facebook page, you know how many MB it will consume… but this new package, I don't think its necessary.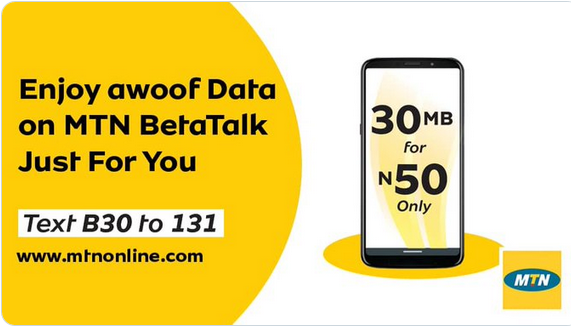 Along side the new package, MTN also introduced 1GB for N1000 and enjoy free N1000 Talk-time to all networks! Validity of this package is 30 days.
How to Activate 30MB for N50 and 1GB for N1000
For MTN 30MB for N50, Text B30 to 131 to subscribe for the package and
Dial *131*310# to get 1GB + 1000 talk time for N1000.
Let us know what you think in comment.