This is coming just few weeks after MTN review their data plans giving more data for the same price, 9mobile want to offer you something more enticing.
Remember it was reported that 9mobile lost over 3 million subscribers in just 2 years, and has lost 532,489 internet subscribers in just five months of 2019.
This new offer may help them bring back lost subscribers and perhaps new subscribers if they are actually sincere about it, because the cheaper the data the happier the subscribers.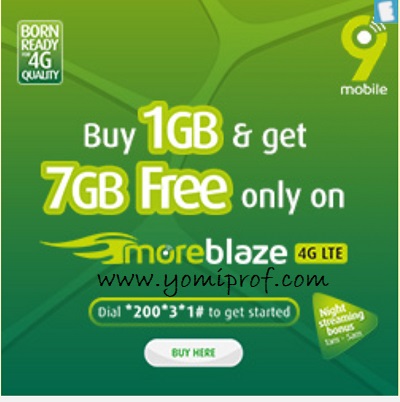 9mobile want to give you extra 7GB bonus if you buy 1GB data plan only available to more blaze 4G LTE. This is a new offer because their customer care agents are not even aware of it. An attempt to reach 9mobile online proves abortive.
What is not clear is if the bonus is usable 24/7 or available for use only at night.
How to Subscribe for It?
Dial *200*3*1#
Maybe you should chillax a little bit before you subscribe so that we can be sure about this new bonus offer from 9mobile.